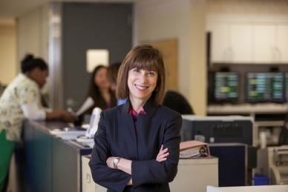 The Board of Directors of Sinai Health System announced that Karen Teitelbaum will become president and CEO, effective July 1. Teitelbaum takes the helm at the 695-bed hospital group following a decade of leadership from Alan Channing who announced his retirement this spring.
Teitelbaum has served as Executive Vice President and Chief Operating Officer at Sinai for nearly seven years, where she has focused on strengthening operations, quality, safety and business development for the health system, which includes Mount Sinai Hospital, Sinai Children's Hospital, Schwab Rehabilitation Hospital, Holy Cross Hospital, Sinai Urban Health Institute, Sinai Community Institute, and Sinai Medical Group. During her tenure, Sinai has received national and statewide recognition for clinical excellence as well as its innovative urban health programs, which translate research in social, economic and health disparities into holistic prevention and wellness programs that improve health as well as quality of life.
Teitelbaum, 57, came to Sinai with deep and broad leadership experience in nearly every sector of health care. She began as a clinician, a speech language pathologist, and went on to own and sell her own physical rehabilitation agency. Teitelbaum's career has included strategic planning, medical staff development and managed care contracting at both teaching and community hospitals.