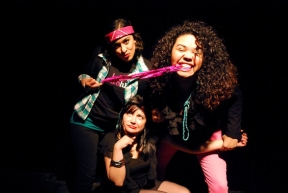 Teatro Luna is expanding their mission of serving Latina and Women of Color-identified artists with the launch of Teatro Luna (TL) West – a new ensemble based in Los Angeles. Founded in 2000 in Chicago, Teatro Luna is America's only Pan-Latina theatre company producing a full season of new and original work and is currently in residence at the Instituto Cervantes of Chicago, Inc.
While the Ladies of Luna West will be hard at work starting the inaugural ensemble, the Chicago Lunáticas will continue to operate out of their downtown home, Instituto Cervantes of Chicago, Inc. An anchor of this exciting residency is producing new work in partnership with Instituto Cervantes. Flying out the gate first is GENERATION SEX, their tenth fully devised play in the company's fourteen year history. In GENERATION SEX, Luna bares all without blushing as we explore how technology has transformed how women see themselves, relate to each other, and interact with sex and love.
GENERATION SEX is presented in English with a sprinkle of Spanish. Recommended for ages 16+
What: Generation Sex
When: Fri, June 13 @ 7:30pm, Sat, June 14 @ 7:30p
Where: Instituto Cervantes, 31 W. Ohio, Chicago, IL
How Much: $15 for general admission, $10 per ticket for groups of 6 or more
For Tickets: Go to http://teatroluna.org/box-office/buy-tickets/ or call 773.819.5862. Tickets can also be purchased at the door.