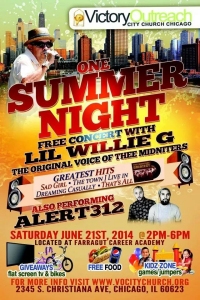 By: Ashmar Mandou
Victory Outreach Chicago City Church will once again host their anticipated family event, One Summer Night at Farragut Career Academy in Little Village. "It is always a great time when I get to travel across the country and meet with community partners to bring a positive message of love to families," said Willie G, former member and singer of the Midniters, who will also be participating in One Summer Night.
Victory Outreach is an International Ministry that specializes in reaching out to men and women struggling to overcome life-controlling habits. Victory Outreach has been serving the community of Chicago for over thirty years and aims to instill desire within people to 'fulfill their potential in life.' Each year, Victory Outreach does that by hosting a one-night only event family friendly event in which they put together a play that touches upon difficult topics, such as gang violence, drugs, and peer pressure. "Everyone faces challenges in their life…what's important to remember is that we allow love to enter our lives and continue to create spaces where we can all come together to make positive changes," said Willie G. The event will conclude with a live drama, Shattered Dreams at 6:30p.m.
One Summer Night will take place at Farragut Career Academy located on 2345 S. Christiana Avenue on Saturday, June 21st from 2p.m., to 10p.m. The event is fun for the whole family and will provide a Kidz Zone.