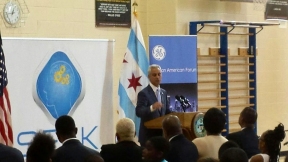 For the first time in its history, the Summer Engineering Experience for Kids (SEEK) program will operate in Chicago. The National Society of Black Engineers (NSBE) developed this free program in 2007 to raise the interest of underrepresented minority students in science, technology, engineering and math (STEM) in grades K–12, as an important step toward careers in engineering.
SEEK offers a diverse, hands-on engineering design curriculum that continues to expand annually. This summer, 150 SEEK students grades 3 through 5 will learn science and engineering concepts while engaging in team competitions during the program. The program will run July 7 to July 25 at the Miles Davis Academy. This year, participants will have an opportunity to "go green" by designing and testing miniature cars during a Gravity Cruiser Activity. SEEK mentors will guide and teach students using a curriculum supplied by the International Society of Automotive Engineers (SAE).
Mayor Emanuel is focused on a city-wide strategy to increase Chicago students' access to high-quality STEM learning experiences from early childhood through college and career. The city-wide strategy will strategically bring together and direct educational, corporate, and philanthropic resources toward the shared goal of increasing STEM opportunities for Chicago students. With the support of multiple sectors, the strategy seeks to triple the number of Chicago students earning STEM credentials by 2018. For additional information, contact NSBE's SEEK team by e-mail at seek@nsbe.org, or visit www.nsbe.org.