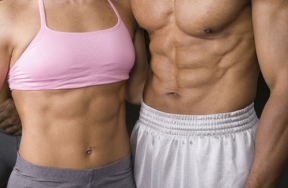 Aunque gran parte de la población de Estados Unidos continúa devastada por la obesidad, misma que causa otros problemas como enfermedades cardiovasculares y diabetes, hay muchos millones que prefieren prevenir estas condiciones haciendo ejercicio regularmente.
"Los Centros para el Control de Enfermedades calcularon recientemente que solo el 20 por ciento de nosotros hace la cantidad de ejercicio recomendado diariamente", dice el Dr. Brett Osborn, autor de "Get Serious, A Neurosurgeon's Guide to Optimal Health and Fitness". [Tómenlo en Serio, Guía de un Neurocirujano para una Salud y un Acondicionamiento Optimos].
Si va a hacer ejercicio – lo que Osborn aplaude – advierte que puede hacerse más daño que bien si cree en algunos de los mitos y "sabiduría convencional" que de hecho, simplemente están equivocados. Osborn, ávido físicoculturista, destruye algunos de esos conceptos erróneos:
Siempre es mejor hacer más ejercicio. Todos desean más músculos y menos grasa, La sabiduría convencional dice que horas y horas de ejercicio lograrán estos resultados. Completamente equivocado, dice Osborn. Matarse no solo es innecesario, puede ser contraproductivo. Logrará los mejores resultados con un régimen de entrenamiento de fuerza, ajustado a sus necesidades, lo que puede lograrse en tres o cuatro horas a la semana.
Más cardio es mejor que levantar pesas. Para todos ustedes dietistas crónicos y entusiastas del cardio que tratan de perder grasa, el programa de entrenamiento de fuerza correcto puede subir su metabolismo y ayudarle a quemar más grasa. Aumentando la masa muscular aumentará el índice de metabolismo basal, BMR. La activación y contracción de los músculos es como el horno del cuerpo. Ejercicios cardio y dieta excesiva pueden comerse el tejido del músculo, comprometiendo su funcionamiento.
Mujeres: "Pero yo no quiero lucir como un hombre: Las mujeres que levantan pesas no van a lucir como un hombre; no tienen el soporte hormonal para acumular una cantidad considerable de masa muscular. Las mujeres que levantan pesas, sin embargo, adquieren una figura más estilizada. De hecho, 99.99 por ciento de hombres mayores de 30 años no tienen el soporte hormonal natural tampoco. Todos los fisicoculturistas elite profesionales utilizan agentes androgénicos, incluyendo esteroides.
Necesita comprar "producto X". Vivimos en una cultura muy basada en el dinero – tanto que muchas veces ponemos el dinero antes que nuestra salud. Olvídese de eso, por lo menos sobre el ejercicio. Lo que cuenta para el aumento de músculo incluye determinación, intensidad, consistencia y seguridad. Si usted piensa que comprar la fórmula más cara, el uniforme de entrenamiento o la maquinaria es necesaria para alcanzar su potencial, está equivocado. Las máquinas muchas veces anulan la intensidad requerida para el cuerpo que usted desea.
El CrossFit es un buen programa de ejercicios. Si quiere aumentar sus músculos, el CrossFit no es para usted. El CrossFit aconseja los movimientos balísticos de quienes empiezan a levantar pesas y desde que el programa ha aumentado su popularidad, ha habido un marcado aumento en índice de lesiones, lo que puede retardar sus metas por muchos meses. El CrossFit anima el sobreentrenamiento y está vinculado a crecientes incidentes de Rhabdomyolisis, o Rhabdo, que es la ruptura del tejido muscular, que conduce a la liberación del contenido de la fibra muscular en la sangre. El Rhabdo puede causar daño renal. Los creadores del CrossFit han aconsejado la Dieta Paleo, una dieta baja en insulina. La insulina es parte necesaria para el aumento del músculo.