Edited by Lawndale Bilingual News
Summer is finally here! With so many parties on the calendar, making sure that yours stands out from the crowd can be a tall order. Lifestyle Expert Evette Rios applied an eye for stylish design and a taste for unique flavors to develop a number of tips that are sure to help make summer entertaining a breeze.
Q: When it comes to creating the ambiance, do you have any tricks to make the environment more inviting?
A: When entertaining at home, I love creating a casual and relaxed environment so that everyone can have a good time. Aside from lively music, I always make sure to have food and drink stations spread throughout the party to encourage mingling and a good flow of traffic.
I usually place a tray with a variety of hard and soft cheeses, crackers and dried fruit throughout the area for easy access. These appetizers are the perfect pairings for a chilled glass of deliciously sweet wine like Gallo Family Vineyards Moscato. Get your guests involved! Keep your summer dinner party to just three courses and let guests bring wine or dessert.
Q: As far as food and drinks, what are your recommendations?
A: I love making dishes with seasonal ingredients, so that everything tastes fresh. I also like keeping the menu simple; a great salad and a few tapas-style dishes will keep everyone satisfied. When it comes to drinks, I love welcoming my guests with a non-traditional cocktail to help get the conversation flowing and kick off the party.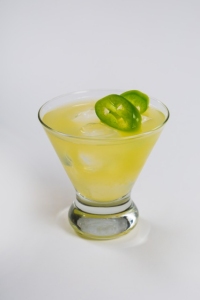 By far, my favorite wine to mix up in a refreshing summer cocktail is Moscato! Its sweet flavors mix well with almost anything, making it easy to use ingredients already around the house. Whether it's a refreshing spin on a classic or your own recipe, Gallo Family Vineyards offers a White, Red and Pink Moscato to help you try new flavors and combinations. One of my favorite cocktails is the Lychee-Jalapeño-Rita. It's very light and fresh. Who doesn't like a Margarita during the summer? Here's how to make it:
RECIPE
Lychee-Jalapeño-Rita
Ingredients
1 ounce Gallo Family Vineyards Moscato
1 1/4 ounces tequila
4 ounces lychee juice from a can of water-packed lychees, or a bottle of the juice (not syrup)
2 ounces orgeat almond syrup
1 ounce lime juice
1 ounce orange juice
½ inch piece seeded fresh jalapeño
Pitted lychee fruit for garnish
Preparation
Muddle the jalapeño inside a cocktail shaker. Fill with ice, add the lychee juice, tequila, Gallo Family Vineyards Moscato, almond syrup, lime juice, and orange juice and shake. Strain into an ice-filled rocks glass and garnish with lychee fruit. For more recipes and cocktail ideas, visit www.GalloFamily.com.