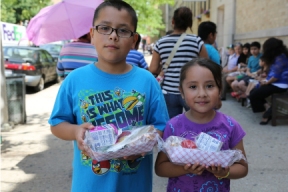 By: Ashmar Mandou
Free summer meals are being made available to feed Chicago's hungry children with the help of Catholic Charities program Summer Food Service Program (SFSP). According to Catholic Charities, one in five children living in Cook County is at risk of hunger. The agency aims to feed 25,000 children this summer. From now until mid-August, Catholic Charities will provide free breakfast and lunch to low-income children up to the age of 18, five days a week at 140 community-based sites across Chicagoland.
Currently in its fifth year, SFSP provides children with nutritious meals even when school is not in session. To reach the neediest children, Catholic Charities uses 60 mobile delivery systems to get meals to summer programs in addition to public places. Angel Gutierrez, vice president of Community Development and Outreach Services for Catholic Charities, talked further about the program and the importance of combating hunger.
As you know, many children across Chicago do not have access to proper nutrition due to food deserts. Please explain why the Catholic Charities Summer Food Service Program is vital for many low-income children?
The Catholic Charities Summer Food Service Program is vital to low-income children because it provides nutritious meals, education about healthy eating and physical activities in their own communities. Through funding from the ConAgra Foundation, we have six mobile meal routes, from which we have the opportunity to deliver these meals throughout several communities in Chicago, many of which are low-income. We also take the time to educate children on healthy eating options. In fact, last year we saw children's knowledge greatly increase. There was a 30 percent increase in children understanding they needed five servings of fruit or vegetables a day and nearly 100 percent understand that water is a healthier beverage than soda.
When the meals are delivered throughout the city, what is the response like year after year?
Throughout the five years the mobile meals program has been in place, we have been looked at as part of the solution to reduce hunger in the communities we serve. By providing healthy nutritious meals along with creating safe spaces with our community partners, we promote healthy eating and physical activities. We have seen an increase in participation in several communities, especially in our mobile meal routes.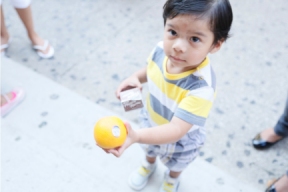 In the last five years, has there been a steady incline in the amount of children the agency serves?
In Cook County, 1 in 5 children is at risk of hunger. Part of the purpose of the Summer Food Services Program is to reduce hunger. Throughout the past five years we have seen an increase in the number of children and meals served. Last year we served about 20,000 children and more than 370,000 meals. This year we expect nearly 25,000 children to receive healthy meals and nutrition education from Catholic Charities Summer Food Service Program.
What can we do as a community to combat this issue of hunger?
People can join the fight to end hunger by being advocates and by helping people connect to the food resources that exist. We ask the community to volunteer to host a food drive at their school, work, church or local community center. Visit our website for more ways to get involved at www.catholiccharities.net. In addition, Catholic Charities offers nutrition education through several Women, Infants, and Children Centers in which the community can learn about healthy options and attend cooking demonstrations, where they can learn how to incorporate fruits and vegetables in their diet. Our Crisp! Mobile Grocery also offers recipes along with fruits and vegetables that are delivered straight to people's homes, especially in food desert areas.
Approximately how many partners does Catholic Charities work with throughout the summer?
Partnerships are at the core of how we deliver our Summer Food Service Program. We work in communities with the greatest need, and partner with churches, nonprofits, housing authorities and local parks within those communities. We work closely with the police districts letting them know when and where our mobile meal routes will be within their area. Catholic Charities is able to provide this high-quality program with the support of partners such as Share Our Strength Foundation, ConAgra Foods Foundation and The J.R. Albert Foundation.

For our interested readers, where can they go or who can they call to learn more about the program?
To find the nearest Catholic Charities Summer Food Service Program, call (312) 655-7483.