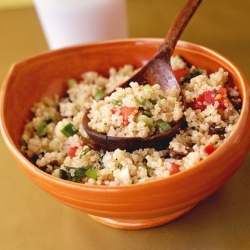 Quinoa is well on its way to being dubbed supergrain of the millennium. High in fiber and a high-quality protein similar to that found in meat, this grain—a diet staple of the ancient Incas—cooks up like rice and has a mild flavor similar to couscous. Quinoa can be found in health-food stores and many supermarkets.
Ingredients
1 3/4 cups water
1 cup uncooked quinoa
1/2 cup coarsely chopped seeded tomato
1/2 cup chopped fresh mint or parsley
1/4 cup raisins
1/4 cup chopped cucumber
1/4 cup fresh lemon juice
2 tablespoons chopped green onions
1 tablespoon extra-virgin olive oil
2 teaspoons minced fresh onion
1/2 teaspoon salt
1/4 teaspoon freshly ground black pepper

Preparation

Combine water and quinoa in a medium saucepan; bring to a boil. Cover, reduce heat, and simmer 20 minutes or until liquid is absorbed. Remove from heat; fluff with a fork. Stir in tomato and remaining ingredients. Cover; let stand 1 hour. Serve chilled or at room temperature.