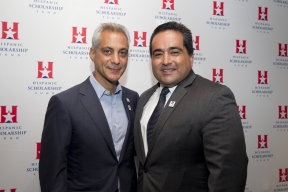 By: Laura Rodriguez
The Hispanic Scholarship Fund, the nation's largest not-for-profit organization that supports Hispanic higher education, hosted its first ever Scholar Celebration Tuesday evening at the Wells Fargo headquarters in downtown Chicago.
Founded in 1975 with the mission to provide scholarships to Latino Students for higher education to increase Hispanic degree attainment, HSF created the event to acknowledge all of the current scholars and to recognize their alumni around the Chicago area.
"Celebrations such as these provide us an opportunity to become re-acquainted with the community from which we are," said Fidel Vargas, president of the organization. "We [HSF scholars and partners] are lifetime members of a very special community with the abiding interest in the advancement of higher education for Latinos and what it means to the future of our great nation."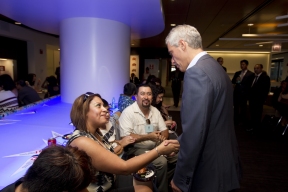 Mayor Rahm Emanuel attended the event a supporter, whom according to Vargas, recognizes the importance of the scholars' accomplishments. "The most important thing we are going to do as a city is to make sure that our educational system and the people that go to it have a quality education so tat they can have a quality future," stated Emanuel.
In his speech, the Mayor congratulated the HSF scholars and thanked the Hispanic Scholarship Fund and their partners, such as sponsor of the event, Wells Fargo Bank, for their work. However, he attributed the students' success to their parents.
"This scholarship is a reflection of all your compassion [and] passion for your children and this is also your day," Emanuel added. "You are a testament to why people make the travel to America and to Chicago is to give their children a chance and a future they could not have."
Hernando Sevilla immigrated from Cali, Colombia in 1991 and he is, one of the, what Mayor Emanuel called, "American dreams alive, well and beating with a full heart." In his speech, Sevilla encouraged his fellow HSF scholars to take advantage of their opportunity to continue their education and inspire other Latino youth in their community. "HSF has provided us, our generation of educated world citizens the necessary resources to ensure these dreams will thrive," he added.