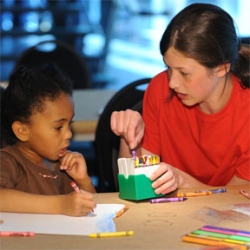 by Daniel Nardini
While I was passing through northwest Illinois, I came upon a town almost unheard of. The Village of Chadwick, a peaceful place nestled in a valley, has a population of just 500. Yet Chadwick has its share of problems. Like more urban areas, finding alternative activities for young people who might drift into trouble is no less a challenge in many rural communities. And with a lack of funding to help provide programs for at-risk teenagers, many rural communities are doing what they can to improvise.
This is what Chadwick Chief of Police Ryan Lambert is doing. Officer Lambert started a volunteer program for young people who want to "do something" during the summer, but are limited because of lack of resources in the community. So Officer Lambert helps provide them with activities. These activities have included painting parallel parking lines for cars, painting two well houses, and repainting the floor of the police office. Additionally, those involved in the program help those senior citizens in the town whose families are not in town and are too far away to provide assistance.
So far, eight teenage boys are in the volunteer program. Officer Lambert's goals are to help these young people take pride in their community and keep them engaged. Those in the program have really embraced it, and this has Officer Lambert considerably because it means these teenage boys are helping to make a difference in their community as well as prevent other young people from getting into trouble. In recognition for their efforts, Officer Lambert takes them to sports games, and the Dairy Queen in the nearby town of Mount Carroll are giving free blizzard sundaes to the teenage boys when they visit the Dairy Queen. The youth volunteer program helps to make Chadwick a safer place to live in, and provides something for its young people to do.