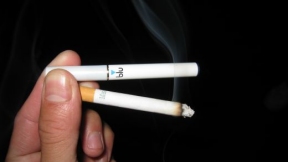 Electronic cigarettes might help some people quit smoking, but the American Heart Association recommends them only as a last resort and only with several notes of caution. AHA President Elliott Antman, M.D., underscored the careful approach Tuesday, a day after the organization's first policy statement on e-cigarettes drew widespread media attention.
"Healthcare professionals, when discussing plans for quitting tobacco with patients, should first emphasize using approved and tested cessation aids," Antman said. "If those don't work, a conversation should be started with the patient emphasizing the lack of long-term safety of e-cigarettes and the inadequate regulation –which means patients don't know always know for sure what's in the product they purchase."
Antman also reiterated the major points of the statement Tuesday: E-cigarettes should be regulated and treated the same way as other tobacco products, they threaten to get more people addicted to nicotine, they should not be marketed to children, and they may pose health threats that we don't yet fully understand.
"The American Heart Association advocates that e-cigarettes should be regulated the way conventional tobacco products are regulated. We must protect the youth of our country from becoming the next generation of Americans addicted to deadly tobacco products," he said.
The American Heart Association has actively advocated against tobacco use for years. On Monday, the organization released its first position statement on the battery-powered e-cigarette products that have quickly grown in popularity. The statement was written by a group of scientists, physicians and researchers, after they studied the latest available information on e-cigarettes.
The group found that the pace of regulation and scientific research has not kept pace with the growth in e-cigarette use. Since their 2003 creation in China, e-cigarette sales have boomed with more than 465 brands and 7,760 flavors now available.
A survey of students in grades 6 through 12 found that by 2012, 1.78 million students in the U.S. had tried e-cigarettes and 76. 3 percent of e-cigarette users said they also smoked conventional cigarettes.