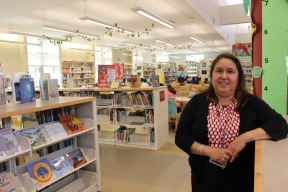 By: Ashmar Mandou
Chicago Public Library Little Village Branch Manager Teresa Madrigal finds nothing more satisfying than knowing families walking into her library will leave with new tools to help their children have a successful academic school year.
"We are so proud at the abundant amount of tools and programs we have at Chicago Public Libraries that help families work together to ensure a better school year than the last," said Madrigal. "It is amazing to see children excited about attending school and learning. We offer so much to the Little Village community and we just want to make sure families in the community come in and take advantage of everything we have to offer."
To ensure families start off on the right foot this academic school year, Madrigal shared a few of the vital programs offered at CPL branches. All programs are free and designed to boost the learning process.
Teacher in the Library
Teachers in the Library are certified teachers who provide after-school homework help for students ages 5 and older at all 80 library locations during after school hours Monday thru Thursday and on Saturdays at select library locations. Teachers assist students with reading, math, writing, and study skills. "We have one of the best teachers who grew up in the Little Village community. This is his home. So he drives the hour commute just to come here and help students in the Little Village community."
CyberNavigator
CyberNavigator technology tutors provide computer help for adults and kids at more than 40 CPL locations. Through technology training and mentoring, one-on-one assistance and small group classes, CyberNavigators offer help with computer and Internet basics, and online job searching. Funding partners include Bank of America, Wal-Mart, McCormick Foundation, Polk Bros. Foundation, Comer Foundation, Chicago Blackhawks and individual donors.
YOUmedia
YOUmedia is held at the Harold Washing Library Center and four neighborhood locations across the city. YOUmedia connects young adults, books, media, mentors, and institutions throughout Chicago in a unique way to inspire creativity. "This is a great program because it gets students excited about technology and boosts their creativity," said Madrigal.
Homework Helper
CPL offers in-person and online homework help across the city at every branch. One program CPL is proud to share is Homework Helper that connects students with a live online tutor through Brainfuse. Online homework help is available in English and Spanish and can be accessed from home with a library card. "Also, I want parents to know that when you have a library card you have so many opportunities to explore outside of the library. For instance, the Kids Museum Passport. In partnership with Museums in the Park, families across Chicago can explore 15 of the city's cultural sites."
For a complete list of programs and upcoming events at CPL, visit www.chicagopubliclibrary.org. CPL Little Village Branch is located on 2311 S. Kedzie Ave. For more information about any of the above programs, call 312-747-4300 or the Little Village Branch at 312-745-1862.
PHOTO CAPTION:
Chicago Public Library Little Village Branch Manager Teresa Madrigal