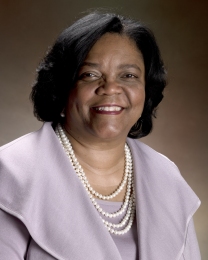 Dr. Sylvia M. Jenkins has served since July 2012 as president of Moraine Valley Community College, where she has worked for 27 years in variety of positions—from librarian and department chair to dean and vice president for Academic Affairs.
She earned her Bachelor of Education degree from Grambling State University, her Master of Library and Information Science degree from the State University of New York at Albany, and her Ph.D. in Education and Human Resource Studies with a specialization in Community College Leadership from Colorado State University-Fort Collins, Colo.
She is a 2014 recipient of the Egretha Award, which recognizes African American women who are doing great things in Chicago and the Chicagoland area through conferences and their African American Women's Business and Career (AWBC) magazine.
She was named Master Teacher of the Year at Moraine Valley twice for incorporating technology in teaching and learning and received the Innovator of the Year Award and the Vernon O. Crawley Leadership Award from the college.
Dr. Jenkins was appointed by Congresswoman Robin Kelly to serve on her Science, Technology, Engineering, and Mathematics (STEM) Council, by Chicago Mayor Rahm Emmanuel and Cook County President Toni Preckwinkle to serve on the Chicago-Cook County Workforce Investment Board, and by the Cook County Forest Preserve District to serve on its Centennial Commission Board.
Dr. Jenkins is a member of the Rotary Club of Moraine Valley and Delta Sigma Theta Sorority, Chicago Alumnae Chapter.
She and her husband, Craig, have four daughters, Carmen, Courtney, Christine, and Carol, and eight grandchildren.