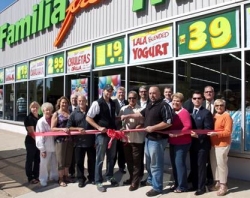 Familia Fresh Market (www.familiafreshmarket.com), a newly renovated family grocery store located at 3308 S. Oak Park Ave, returned to Berwyn's Depot District with a focus on fresh produce, meats and an assortment of dry goods. In partnership with the City of Berwyn and Berwyn Development Corporation (BDC), Familia Fresh Market held a grand opening celebration on Aug14.
Familia Fresh Market offers fresh produce, a meat department and an assortment of fresh baked goods. The store will eventually prepare daily lunch specials including hot and cold dishes. Patrons can expect to find a changing menu of charbroiled hot items, sandwiches and salads to go. For those interested in beverages, the store has their own Danesi Caffè with a variety of pick-me-ups, including lattes and cappuccinos. Danesi established Rome's first coffee shop circa 1905.
Through the support of the City of Berwyn and the BDC, Familia Fresh Market received Tax Increment Financing (TIF) for interior build-out and façade work on the space formerly occupied by Berwyn Finer Foods, which was vacant for nearly a decade. TIF funds are scheduled to be disbursed in equal installments in 2014 and 2015. In order to fund the construction costs realized in 2014, the City of Berwyn and BDC approved a bridge loan through their Commercial Loan Program.