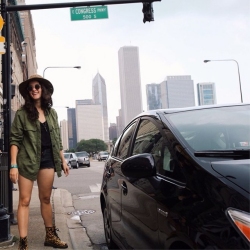 By: Daisy Magaña
Earlier this month brought people from all corners of the world for Chicago's greatly anticipated summer music festival Lollapalooza. The three day music fest featured big and small bands both English and non-English that provided attendees with everything from dance and electronic to indie and rap and much more. Headliners included Outkast, Lorde, Eminem and Kings of Leon. If you were lucky enough, you may have even run into Mexico's Ximena Sariñana—and no not onstage but instead walking the streets of Chicago and enjoying the various acts.
Grammy nominated singer and songwriter Ximena Sariñana once again partnered with Toyota to road trip across the nation providing a first-hand account of the summer's biggest music festivals. She had not visited the Windy City since her performance in Chicago's 2011 Lollapalooza. "We started working with Toyota last year with the 'Outside Lands Festival' and the pairing was very natural…It was very fun, and this year we wanted to do it again and added on Lollapalooza" said Sariñana. "It [live-reporting] gives you another perspective of the festival. And plus, you get a little more time to get to know the city."
The lineup included Colombian band Bomba Estéreo where concert goers danced to electronic and energetic beats of the South American artists. Music brings people together and pays no attention to language. Sariñana expressed that music, itself, is a universal language. "It's very rare that you get to see bands from all over the world and different genres in the same place for three days—it's a 'super deal' for anyone!," said Sariñana. "And for the artist it is a great platform to play for your fans and those who may not know you. Lollapalooza is an event at the heart of the city and that is something that differentiates this music festival."
Although Sariñana is rounding out her real-time social media experience known as "Musica y Destinos con Toyota," she has been busy working on her third album that will be released later this year called "No Todo Lo Puedes Dar." She goes back to her Spanish language roots with this album. Describing it as bolder than her previous work, Sariñana took a more involved role in the creative process and produced many of the songs. The album's title comes from one of the songs, and after her good friend Uruguayan musician Jorge Drexler encouraged her to make it the album's name she could not say no. "[The title] is a personal journey. I'm a very committed person but there comes that time in life where you have to hold onto something that's only for you," said Sariñana. "And if Jorge Drexler says so, well…"
Sariñana will be heading to San Francisco for the "Outside Lands Music Festival." She hopes to return very soon to the city but this time to play for the Chicago public. Be on the lookout for her upcoming album!