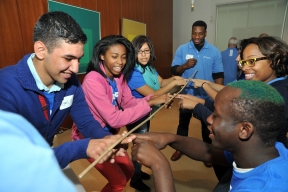 For the first time, public high school seniors who actively participated in an innovative afterschool program created by Exelon, ComEd and United Way of Metropolitan Chicago achieved a graduation rate of 100 percent, exceeding the 69 percent average for seniors in Chicago Public Schools. This is the seventh consecutive year that participating seniors' graduation rate exceeded 90 percent.
Students in the Exelon/ComEd/United Way Stay in School Initiative had a grade promotion rate of 97 percent in the 2013-2014 academic year. The sponsoring organizations reported these and other successful outcomes at the annual program kickoff at The Art Institute of Chicago on Sept. 20.
"The Stay in School Initiative is taking an innovative approach to student success," said Illinois State Sen. Martin Sandoval, who addressed students. "It brings new resources into areas with the highest dropout rates in the city. Programs like this one reinforce the idea that at-risk students can achieve academic success with the community's support. We are of proud of the initiative and perseverance these students continue to show."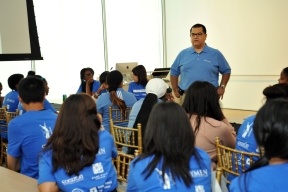 Six community- based afterschool agencies are part of the Stay in School Initiative: B.U.I.L.D Inc., serving students from the Humboldt Park/West Town, Youth Guidance in Austin, Corazon Community Services in Cicero, Gary Comer Youth Center in Greater Grand Crossing, Project: Vision in Chinatown and Bridgeport, and Young Men's Educational Network in North Lawndale. These agencies were selected because students from these communities have some of the highest dropout and truancy rates in the city.
"We believe tackling the education crisis begins with connecting communities to their schools," said Sofia Mendez, community engagement senior manager at United Way of Metropolitan Chicago. "It's important to involve parents, mentors and business leaders in youth academic advocacy. The Stay in School Initiative offers services that engage the community and propel student achievement."