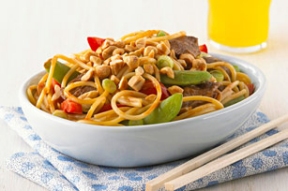 Ingredients
1/4 lb. spaghetti, broken in half, uncooked
1-1/2 cups sugar snap peas
1/2 cup red pepper strips
1/4 cup KRAFT Lite CATALINA Dressing
1/2 lb. well-trimmed boneless beef sirloin steak, cut into thin strips
1 Tbsp. PLANTERS Creamy Peanut Butter
1 Tbsp. lite soy sauce
2 green onions, sliced
1/4 cup chopped PLANTERS Dry Roasted Peanuts
Directions
COOK spaghetti as directed on package, omitting salt and adding snap peas and pepper strips to the boiling water for the last 2 min.
MEANWHILE, heat dressing in large skillet on medium-high heat. Add meat; stir-fry 3 min. or until meat is barely pink in center. Add peanut butter and soy sauce; stir-fry 1 min. or until sauce thickens.
DRAIN spaghetti and vegetables. Add to skillet; toss with meat mixture. Stir in onions; sprinkle with nuts.