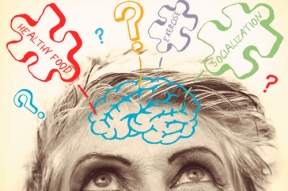 As a fitness expert and neurosurgeon, Dr. Brett Osborn says he appreciates the growing public interest in general health and fitness. Now, he says, that attention needs to extend to arguably our most essential organ – the brain.
September's an appropriate time to talk brain health: its World Alzheimer's Month, and it's the beginning of football season. By now, we know that football players in the NFL, college and even high school suffer considerable head trauma, whether through big hits resulting in concussions or moderate, repeated blows, he says.
It's also soccer season in other parts of the world. Concern continues to mount about the neurological damage done to players from repeated headers, where the ball is hit by the head. The long-term effects, including depression and other mental-health problems, are similar to those suffered by American football players, he says. Osborn offers tips to help everyone maintain brain health:
Learn new skills. "Just as with other health concerns, brain health should be rooted in the prevention of disease," he says. Alzheimer's is a neurodegenerative disease, the causes of which, and the cure, are unknown. However, it's widely thought that brain stimulation and activity can delay the onset of the disease. The acquisition of a new skill – whether it's learning to play an instrument or taking up waterskiing – exercises the brain "muscle."
Commit to actual exercise. Everyone knows that exercise helps protect the heart, but not everyone knows that physical activity is also good for the brain. The brain is not a muscle, but it can be worked as muscle is worked during exercise, which forges new neuron pathways.
Don't sweat stress. There is such a thing as good stress, including the acute bodily stress involved in strength training. Of course, there's the bad stress, such as psychological stress associated with work or interpersonal relationships, and environmental stress, derived from pesticide-laden food – toxins. As always, you have a choice. You don't have to accept mental stress in your life. Reconsider toxic relationships. Rethink how you handle pressure at work. Perhaps adopt a lunchtime exercise routine.