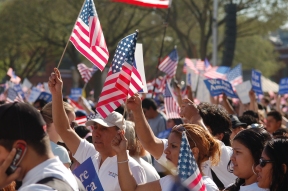 On Wednesday, Chicago Mayor Rahm Emanuel, Los Angeles Mayor Eric Garcetti, New York City Mayor Bill de Blasio, and Citi jointly launched Cities for Citizenship – a major initiative aimed at increasing citizenship among eligible U.S. permanent residents to forge more inclusive and economically robust cities.
Cities for Citizenship will enable cities to expand naturalization and financial capability programs, as well as access to legal assistance, microloans and financial counseling, boosting economic opportunity for immigrants and communities nationwide. The effort will be coordinated by two leading non-profit partners, The Center for Popular Democracy and the National Partnership for New Americans, with the aim of encouraging cities across the country to invest in their citizenship programs. In total, Citi Community Development, the founding corporate partner, is contributing more than $1 million to the program.
There are currently 8.8 million legal permanent residents in America who are eligible for citizenship. These are documented residents, who pay taxes and work lawfully, but 52% of whom remain low-income. Their naturalization would provide access to better paying jobs (up to an 11% increase to their personal earnings), academic scholarships, and a myriad of other benefits. It would also provide a $37 billion to $52 billion lift to the national economy over the next ten years. This would mean up to $1.6 billion for Chicago's economy, $2.8 billion for the Los Angeles economy, and a $4.1 billion boost for New York City's economy, according to "Citizenship: A Wise Investment for Cities," available at http://on.citi.us/1oPWemB. This report by the Center for Popular Democracy and the National Partnership for New Americans with the USC Dornsife Center for the Study of Immigrant Integration is a preview of a larger study New York City will release next year with Citi Community Development's support.
"Immigrants who become naturalized citizens make significant contributions to our communities, our city, and our country and it's in our collective interest to promote naturalization in Chicago," said Mayor Rahm Emanuel. "We are proud to join Mayor Garcetti of Los Angeles and Mayor DeBlasio of New York in leading Cities for Citizenship, which will help thousands of immigrants in Chicago and in cities across the country through the naturalization process, leading to economic benefits for our immigrant families and city as a whole.
"Immigrants are the backbone of our economy. It's time we encouraged their successful integration into our social and political tapestry to continue boosting our economy and not stand in the way of it," said Mayor Eric Garcetti. "We are committed to expanding citizenship education and making sure people have the help they need to navigate this complex system."
"I'm proud to stand today with my fellow mayors Rahm Emanuel and Eric Garcetti as we launch the national Cities for Citizenship initiative," said Mayor Bill de Blasio. "This win-win effort will help us create more inclusive cities that lift up everyone. From increased economic activity to larger voting and tax bases, the advantages of citizenship will not only expand opportunity to our immigrant families, but to all New Yorkers and residents nationwide."
Cities for Citizenship will connect mayors and municipalities with immigrant organizations and the business, faith and labor communities in public-private partnerships.
"The National Partnership for New Americans believes that Cities for Citizenship will encourage millions of immigrants to take the important step of becoming U.S. citizens and full participants in the economic, cultural, and civic life of this nation. NPNA will bring immigrant organizations into partnership with Mayors to grow Cities for Citizenship in dozens of cities across the U.S." said Eva Millona, the co-chair of the National Partnership for New Americans and herself a naturalized U.S. citizen.
Follow the initiative on Twitter with #Cities4Citizenship. Learn more at CitiesforCitizenship.org.