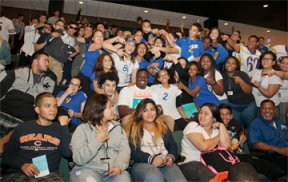 The Chicago City of Learning (CCOL), Get Schooled, Comcast and several community-based organizations (CBO) joined Chicago Bears offensive lineman Jordan Mills Tuesday at Chicago's Roberto Clemente Community Academy to announce a semester-long "Get Schooled, Get Connected, Challenge" powered by the Chicago City of Learning. The challenge will use a technology-based platform of games, pop culture, localized information, recognition and rewards to engage and motivate 13- to 19-year-old students to prepare for college.
"This is a very cool citywide challenge that leverages key influences in students' lives to get their attention," Mills said. "The technology resources are there to engage students, and there's no doubt the relevant content will motivate students to be successful. There really are some interesting games on the Get Schooled site, especially the one about athletes who played other sports in high school. That was cool to check out."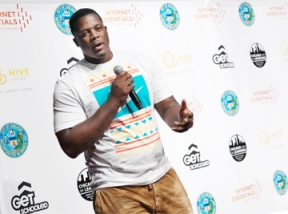 A first of its kind, this citywide challenge brings together Get Schooled's educational content and technology platform, the City or Learning's localized portal and Comcast's Internet Essentials program, which helps low-income families get connected to the Internet at home. Get Schooled is a national non-profit organization, whose unique approach has helped thousands of students in locations across the country plan for their futures.
"The city is focusing on helping students prepare for college," Chicago Mayor Rahm Emanuel said. "To be successful, we have to motivate and keep students engaged in the process. The City of Learning has demonstrated success in reaching Chicago students. With the addition of groundbreaking content and home internet connectivity, its impact and reach will grow."