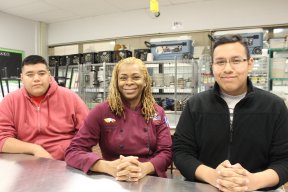 By: Ashmar Mandou
Students from 18 Chicago Public Schools are beaming with excitement as they prepare to showcase their culinary abilities Thursday, Oct. 30th at the Skyloft at the Bridgeport Art Center for Cooking Up Change as part of Healthy Schools Campaign's annual healthy cooking contest and fundraiser.
"I am looking forward to seeing what other students have come up with," said Marc Mena, a student at Benito Juarez Community Academy. "Being part of the Cooking Up Change campaign is fun and challenging and really pushes us to think outside of the box, in terms of creating delicious recipes in a healthy way." His teammate Armando Rodriguez echoes the same sentiment. "What I enjoy most about this whole process is challenging myself and my teammates to come up with a dish that people will like."
Cooking Up Change is a healthy cooking competition sponsored by Chicago-based Healthy Schools Campaign that challenges teams from different high school culinary students to craft menu items that adhere to the USDA guidelines and the budgetary constraints which amounts to a $1. "As we all know, school food is a hot button topic in schools across the country and Cooking Up Change competition gives students the tools to not only become confident in their ability, but the tools to be an advocate of healthy living," said President of Healthy Schools Campaign and Cooking Up Change Rochelle Davis. "Each year, we have the chance to witness these extraordinary students in action and taste their amazing recipes."
One in three American children and teens is overweight or obese and according to Healthy Schools Campaign many students eat up to half their daily calories at school. Healthy school food is vital when it comes to solving childhood obesity. "Many of what our students are consuming isn't the best for them," said Kimberly Franklin, lead chef at the culinary program at Benito Juarez Community Academy. "This challenge really gets students thinking about how to live healthy lives and cook flavorful recipes without adding the main ingredient, salt."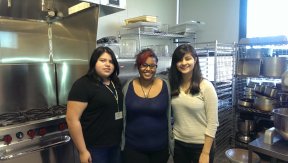 Each school team, made up of six students, will have their chance to present their recipe to a panel of judges on October 30th for a chance to win an all-expense paid trip to Washington, D.C. to compete at the national competition. "It has been fun for us working together and creating something we know everyone is going to like," said Hannia Vidals, student at Roberto Clemente Community Academy. "Cooking is a passion of mine. I cook a lot when I am at home, so for me, this competition is really exciting." Teammates Shantel Lane and Yulissa Salgado feel the same way. "A competition, like Cooking Up Change is really important for us as students because it teaches us the importance of eating healthy and puts our needs as students first," said Lane, who hopes to attend an out-of-state culinary school.
On October 30th, the public can see the students in action at the Bridgeport Art Center as they met with area chefs, influencers, and health industry representatives. The event begins at 1p.m., and concludes at 8p.m. A version of the winning recipes will also be served at CPS cafeterias starting late January, early February 2015. For more information, visit www.cookingupchange.org.
PHOTO CAPTION:
(Left to right) Armando Rodriguez, Chef Kimberly Franklin, and Marc Mena representing Benito Juarez Community Academy. Team Juarez will be cooking up Asian inspired dishes.
(Left to right) Hannia Vidals, Shantel Lane, and Yulissa Salgado representing Roberto Clemente Community Academy. Team Clemente will be cooking up Mexican inspired dishes.