Governor Pat Quinn announced the winners of the "2014 Governor's Awards for Excellence" in the fields of community health, the arts, education/workforce development and community relations at his annual Latino Heritage Month Reception on Friday, October 10 at the National Museum of Mexican Art in Chicago.
This year's Awardees are Oscar Romero (Excellence in Latino Art), Judy Guitelman (Excellence in Community Health) and Juan Salgado (Excellence in Education and Workforce Development). Governor Quinn also honored Olgha Sierra Sandman, who has strengthened the voices of Latino workers.
Photo Caption 1:
Argentine-born Judy Guitelman (left) is a champion for survivors of breast cancer (of which she is one). In 2011, she founded ALAS (Asociación Latina de Asistencia y Prevención del Cáncer de Mama) to help Latinas with assistance and education. It provides innovative programs like the "The Mobile Salon" to provide wigs and prostheses to cancer victims.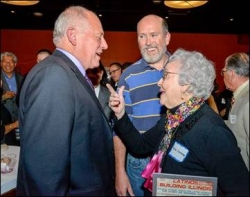 Photo Caption 2:
Gov. Quinn honored Olgha Sierra Sandman, seen here with her son. Sierra Sandman – with help from César Chávez – organized farmworkers in Onarga, Illinois in the 1970s, leading to enactment of the "Illinois Field Sanitation Act of 1983," a model for workers in other states.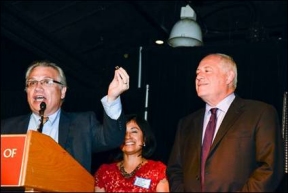 Photo Caption 3:
Carlos Tortolero – Executive Director of the National Museum of Mexican Art – presents a commemorative pin of the César Chávez postage stamp to Governor Quinn, as the Governor's Deputy Chief of Staff – Amalia Rioja (center) looks