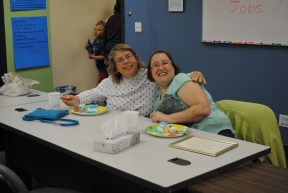 Supported employment is an approach to helping persons with disabilities find and maintain jobs. Such services are particularly important for persons living with mental illness, for whom employment could rebuild optimism and bring security. According to the National Alliance on Mental Illness, 40¬–60 percent of consumers who take advantage of supported employment obtain competitive employment. Pillars, a Chicagoland mental health and social service agency, offers an Employment Services Program to its clients living with mental illness. The program recently held its second annual celebration to honor 40 people who attained employment in the past fiscal year.
Pillars is a leading mental health and social service agency in the western suburbs. Serving 12,000 people across suburban Cook County, eastern DuPage County and Chicago last year, Pillars works to build healthier communities by providing quality mental health services, social services and education to people of all ages. Learn more about Pillars at www.pillarscommunity.org.
Photo caption: Kathy Titzer (left) and Samantha Wiencek were among those honored at Pillars' supported employment celebration.