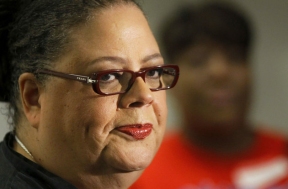 Jhatayn "Jay" Travis, coordinator of the Karen Lewis Exploratory Committee, Tuesday released the following statement regarding the upcoming municipal elections:
"On behalf of Karen Lewis and her exploratory committee, I want to first and foremost thank the teachers, sanitation workers, social workers, librarians, parents, police officers, firefighters, youth, artists, school clerks, grandparents, bus drivers, workers, and retirees who collected tens of thousands of signatures for Karen Lewis. Your support rang out from every corner of this city, demanding new leadership at the highest level of city government.
"Karen Lewis has decided to not pursue a mayoral bid. Yet she charges us to continue fighting for strong neighborhood schools, safe communities, and good jobs for everyone.
"The tens of thousands of signatures collected for Karen confirm what the polls have already said: Chicagoans from Beverly to Uptown want to feel safe in their neighborhoods; they want an elected representative school board; and they want political leadership at every level that is responsive and responsible.
"Our work is not about one leader, one race, or one election. Our work is about building progressive power to restore participatory democracy to Chicago. The groundswell of grassroots support is a testament to the strength of our movement and to the depth of dissatisfaction that hardworking Chicagoans have with the top-down, out-of-touch leadership in City Hall.
"Together, we are changing the political landscape. We must hold our public officials—at every level—accountable for their track records on school closings, unemployment, violence, and nickel-and-diming working families."
Karen Lewis serves as President of the Chicago Teachers Union, the third largest teachers local in the country and the largest local union in Illinois, since 2010. The Karen Lewis Exploratory Committee (KLEC) was set up to explore a possible mayoral campaign in the February 2015 municipal elections.