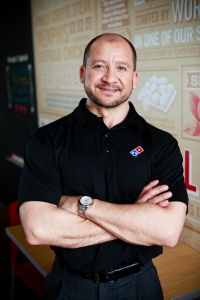 By: Ashmar Mandou
It is more than sheer luck Mauricio "Reece" Arroyave, 38, accomplished so much in such a short amount of time. Since beginning his career at Domino's at the age of 12 as a door hanger, Arroyave, managing partner, Domino's Pizza, is part of the largest growing franchise group in Domino's with over 66 stores in Chicago, South Carolina and Los Angeles and manages over 100 Domino's throughout Chicago.
"It took dedication and putting in 12 hour days every day," said Arroyave. "If you want to grow your business, no matter what it is, you have to be willing to put in the work. When I became manager, I took it upon myself to also be the delivery guy, I answered phones, I took orders, I cleaned, I did it all because I knew that is what I had to do to run a business."
Arroyave credits his success to his passion, enthusiasm, and sharp focus. Arroyave's career with Domino's Pizza started thanks in part to his sister who worked at Domino's at the time. Arroyave moved quickly up in the company through his high school years from pizza-maker to shift runner. After high school, Arroyave went on to study criminal law and graduated with honors, however, he was steered back to Domino's once again. "I felt my journey with Domino's wasn't over," said Arroyave. Taking advantage of the opportunity, Arroyave went from store manager to opening his very own stores in two years at just 24 years old; shortly afterwards, Arroyave, sold his store to his brother in law in exchange for the opportunity to run a 17 store market from Wisconsin to Chicago. "You have to be prepared for hard work if you want your business to grow. It also helps to have an unbelievable team to help you accomplish your goals."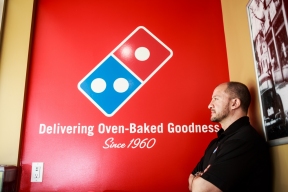 To have a more profound understanding of Domino's Pizza operations, Arroyave took on the task of managing 102 Domino's throughout Chicago, he later bought six stores. Having been elected to serve as President of the Chicago region, serving on the Board of Directors for a total of six years and Vice President for another three years, it is apparent Arroyave is a valued member of the Domino's family. "Sometimes I look back at how much I have accomplished so far and I am proud," said Arroyave. "There are no shortcuts in business. You have to put in the work no matter what."
Arroyave's plan is to continue to grow the Domino's Pizza franchise and inspire youth to become entrepreneurs. Arroyave lives with wife of 11 years, daughter, 16 month old son, and has another baby on the way.