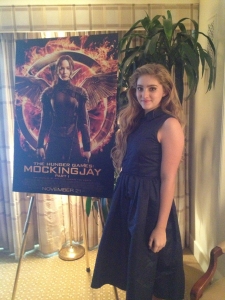 By: Nikoleta Morales
On November 12th, "Hunger Games" star Willow Shields ("Primrose Everdeen") visited Benito Juarez High School in Chicago as a thank you to the students for their excellent participation in Chicago Public Library initiatives and YALSA's Teen Read week.
"I am home schooled so it was weird to be at a school again. I got to encourage the students to read more. I owe some of my success to the fact that I love reading. I read constantly. It helps so much," said Shields to Lawndale News.
Shields shared with Lawndale News that she doesn't have a favorite book though she enjoyed reading "To Kill a Mockingbird," "Girl, Interrupted" and that John Green is one of her favorite authors. "I read teen novels. I have been trying to look for more sophisticated novels that are hard to read. I am trying to read 'Romeo and Juliet.'"
said Shields.
Shields also participated in a Q&A with the students before a presentation of "The Hunger Games: Catching Fire." Several lucky students also went home with prizes from "The Hunger Games: Mockingjay – Part 1" including tickets to an advance screening taking place before the movie opens to the public on Nov. 21.
The worldwide phenomenon of "The Hunger Games" continues to set the world on fire with "The Hunger Games: Mockingjay- Part 1," which finds Katniss Everdeen (Jennifer Lawrence) in District 13 after she shatters the games forever. Under the leadership of President Coin (Julianne Moore) and the advice of her trusted friends, Katniss spreads her
wings as she fights to save Peeta (Josh Hutcherson) and a nation moved by her courage.
"She [Primrose] starts off as a young girl that is scared and discovers who she is as a person. In Mockingjay she finds a lot of strength in herself," said Shields regarding her role as Primrose. In terms of Chicago, Shields said that not only is her dad a native of the Windy City but also that she enjoys and misses the cold. "I love Chicago," she said.