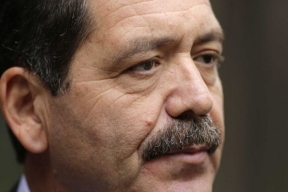 By: Nikoleta Morales
On October 29th, Cook County Commissioner Jesus "Chuy" Garcia attended and spoke at the fourth annual Latino Policy Forum breakfast "Latinos on the Move." Lawndale Bilingual Newspaper got a little time with him to ask a few questions about the upcoming elections.
Lawndale News: What will you say to encourage Latinos to vote? Why do you think there was a low turnout at the early voting?
Jesus Garcia: It's very important to come out and vote. Historically, we have a low turnout in general. The convenience of early voting is that there aren't any lines. You don't have to forget and run around on Election Day waiting in long lines. At the same time it is critical for Latinos to come out and vote. We have to be taken seriously by both parties in Illinois in Chicago. If we want to progress and want more resources for our community and be treated with respect and dignity we have to exercise our right to vote at the ballot box. Not everyone in our community can vote but those who do I feel are committing a sin if they don't vote. Too many people have sacrificed too much of their lives to give us the ability and privilege to vote. Let's exercise it and get out there to vote, especially the young people.
You are running for mayor. Why should people vote for you and what qualities will you bring to the table?
I think that the assets and vision I bring is an alternative one. It has to do with my long work as a community builder not just at my neighborhood but also in different neighborhoods in Chicago. When I heard that we need a different type of a mayor, a mayor who understands communities and cares about them, I believe I am that person. My trajectory as a neighborhood person is a long one. I also have an urban planning major from the University of Illinois and also my legislative record speaks for all of our neighborhoods and ethnicities and people of faith in the city of Chicago.
Why did you choose to run for mayor? Do you feel that Latinos need someone to represent them?
When Karen Lewis was took ill and wasn't able to bring forth an alternative I felt the timing was excellent for bringing change for the city in Chicago especially for someone who has worked with communities for a long time.
What would you like to say to the Latino voters?
If we are going to be taken seriously, if we care about our families and community we need to get out there and vote. If you don't, we will continue to be taken for granted, you will be ignored, we will continue to be seen as invisible and that is a travesty.