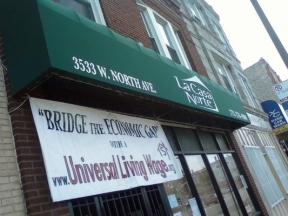 On Tuesday, December 2nd, 2014, La Casa Norte will join the #GivingTuesday campaign in an effort to support a National Day of Giving. Following Black Friday and Cyber Monday which have become days synonymous with holiday shopping, #GivingTuesday will harness the power of volunteering, donating and social media to support giving back to organizations like La Casa Norte.
This year, La Casa Norte will be offering various ways in which volunteers and supporters can donate and give back on #GivingTuesday, including the distribution of hundreds of coats collected through its annual winter coat drive. "We all know that Chicago winters are extremely harsh and it is critical we do as much as possible to support youth and families experiencing homelessness throughout this time," says Sol Flores, executive director. "The exciting part about #GivingTuesday is it's an opportunity for people to make a real impact at a time when our clients are most vulnerable," she says.
Those who are interested in joining La Casa Norte's #GivingTuesday initiative can visit http://www.lacasanorte.org/event/giving-tuesday or find more information on the agency's Facebook and Twitter pages. For more details about the #GivingTuesday movement, please visit the #GivingTuesday website at www.givingtuesday.org.