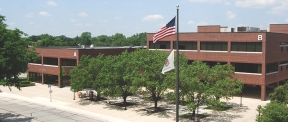 Dan Hampton, legendario tackle defensivo de los osos de Chicago, será el orador estrella en la 3ª. Reunión Cumbre Anual de Friends of Morton Foundation, el 11 de diciembre, en Morton College.
"Con la reunión cumbre de este año, titulada Powering Through, no se pudo menos que pensar en Dan Hampton", dijo Sallie Nyhan, Funcionaria de Desarrollo de Friends of Morton Foundation. El Pro Fútbol del Salón de la Fama fue conocido como uno de los jugadores más dedicados de NFL, habiéndose sometido a diez cirugías de la rodilla, además de otras múltiples lesiones para ganar los múltiples honores del Pro-Bowl y un campeonato del Super Bowl con el equipo de los Osos en 1985.
La reunión cumbre, establecida por primera vez en el 2012, juega un importante papel en cumplir la misión del Morton College, el colegio comunitario más antiguo de Illinois. La meta es que los asistentes salgan facultados con una mejor calidad de vida gracias a oportunidades de aprendizaje y servicios comunitarios provistos en la reunión. El orador del año pasado fue Chris Kennedy, fundador y CEO de Top Box Foods, con Anne Pramggiore, CEO de Commonwealth Edison como orador del 2012. Para más información sobre la reunión cumbre y para participar como asistente o patrocinador, comunicarse con Sallie Nyhan de Friends of Morton Foundation al (847) 904-7060.