By: Ashmar Mandou
Empowering young girls and women to share their stories is just what GlobalGirl Media is all about. GlobalGirl Media (GGM) is an organization that fosters self-expression of teenage girls and women in marginalized communities across the globe by equipping them with the tools to become citizen journalists and introducing them to seasoned reporters, educators, and filmmakers. GGM is known for their video and blog stories, which are written, edited, and produced by girls for girls. Since 2010, GGM has trained 240 young women in the U.S., United Kingdome, Morocco, and South Africa. Recently, GGM partnered with TV4 Entertainment to announce the launch of the GlobalGirl Media Network (GGMN.tv), a new television network committed to putting young girls and women at the center. "This partnership with TV4 is just going to be able to provide GlobalGirl Media more of an opportunity to reach more girls and an opportunity to tell more stories that are centered on young girls and women," said National Programs, Chicago Program Director Tobie Loomis. "We are very excited about this new opportunity." Loomis shared the excitement with Lawndale Bilingual Newspaper by talking about what viewers can expect to see on the new TV network.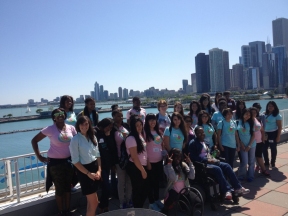 Content
Mainstream and traditional journalism organizations tell stories in ways that are packaged for mass media that are not stories that are coming out of the girls we work with here in Chicago and globally. They tell the same stories, same issues, but that really from the grassroots, from their experience, from their perspective. Stories concerning immigration, health issues, etc., around women. It is told in a way that is very unique and unfiltered and we feel that having this opportunity with TV4 Entertainment allows young girls to tell their stories in a way that matters. The general mission of GGM is to change the culture in which young girls and women are portrayed in media and we believe it is done through the process of giving them the skills to tell their stories by teaching them journalistic skills and media literacy and giving them these opportunities with the help of TV4 and our 30 or 40 other partnerships.
Our Voice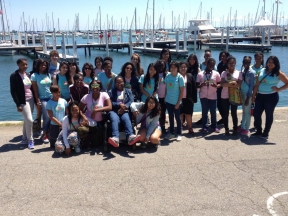 It is vitally important to me to be a part of GGM's mission at promoting confident in young girls and women. I see it everyday. I see the daily impact that this kind of program and these types of opportunities provide these girls we serve. These girls come from underserved communities, diverse communities, ethnically, culturally, and socially diverse. When we give them just the attention and provide them the opportunity to be heard, to exercise their thoughts to actually express what they might be thinking and feeling and giving them the sense that what they are thinking, feeling, and saying is important…you just see the light turn on. They see that they have value. They see their experiences have value. Once they see that there is no stopping them. That is why I feel it important to allow for opportunities to be unlocked. Then we start taking the steps…one step in front of the other to affect change within their own individual life, which ripples to their family life, then their school life, then their community, and then beyond that when you share the stories that come from their perspective through partners like TV4. This partnership will allow even more girls to create stories also centered around young girls so the ripple affect will become even broader.
Message
We are now going to have conversations with other partners that are also creating stories and content that is centered on young girls and women and provide them with the opportunity to share them with our TV4 network. So I'm excited to be sharing those because it is a collaborative effort…we are serving youth here in Chicago, especially. Chicago is a city, I believe, that is focused and has incredible resources for youth, so this opportunity I just feel grateful to be able to share with other youth as well.