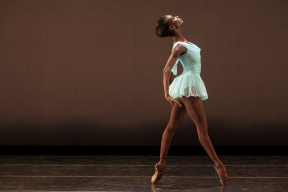 Por: Nikoleta Morales
Del 21 al 23 de noviembre, el Teatro Auditorio de Roosevelt da la bienvenida una vez más, después de 16 años, al Teatro de Danza de Harlem, por su celebración del 125 aniversario. La aclamada compañía presenta una actuación elegante y exquisita, con obras como "Gloria" y Return" por Robert Garland y Dancing on the Front Porch of Heaven" por Ulysses Dove. La directora artística de la compañía es Virginia Johnson.
El show tuvo dos intermedios y cada escena fue puesta en diferentes humores y colores, creando una experiencia diversa para el espectador. La primera mitad fue una elegante mezcla de ballet clásico y espiritualidad con "Gloria" coreografiada por Robert Garland. La segunda mitad cambió el humor a un tono más oscuro y sombrío, con tonos de blanco y negro, en la interpretación de "Odes to Love and Loss". La tercera parte pareció ser la favorita de la audiencia ya que la multitud despertó a una alegre mezcla de ballet y jazz, con alegres trajes y música de Aretha Franklin y James Brown, haciendo a un lado los límites de las técnicas y formas del ballet, incorporando y mezclando movimientos de la experiencia afroamericana. Estudiantes del Centro de Danza Multicultural de Chicago participaron también en el show.