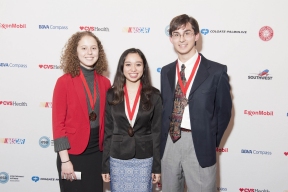 For many immigrants, the American Dream is just a dream, but for three exemplary Hispanic high school seniors in Chicago, this dream is closer than ever to become a reality. Through their hard work exceeding in the classroom, countless community hours, and their desire to become first-generation college students in their families, Victoria Erdel, Alexandria Charmoli and Alexander Guiteras were able to excel and be awarded with a scholarship grant towards their college education. As part of Colgate-Palmolive Haz La U grant in partnership with the Hispanic Heritage Foundation, the Youth Awards educational grant program, currently in its 15th anniversary, has helped increase the amount of Hispanics enrolled in college by helping assuage financial stress for Hispanic families across the United States. This past November 24 at Loyola University, these three local Chicago students were awarded with the Colgate-Palmolive Haz La U Community Service award, each receiving a $1,500 grant towards their education.
Victoria Erdel—GOLD
College: University of Notre Dame
High School: Penn High School
Nationality: Ecuadoran-American
Graduating with a 4.00 GPA, Erdel hopes to continue to assist the community with a career in the medical field as she majors in chemistry at the University of Notre Dame, Wheaton College, or Bethel College.
Alexandria Charmoli—SILVER
College: University of Michigan
High School: Naperville Central High School
Nationality: Mexican descent
In the future, Charmoli would like to go into business and work for a non-profit and continue to give back to a community that has given her so much. She graduates with a 3.91 GPA and plans to major in marketing at the University of Michigan, University of Pennsylvania, or the University of Wisconsin-Madison.
Alexander Guiteras—BRONZE
College: Savannah Collage of Art and Design
High School: Lake Forest High School
Nationality: Spanish descent
Guiteras says he loves all the people I meet and seeing smiles on children's faces getting a free lunch or a new book, is a wonderful experience. He hopes to continue volunteering after gradating high school and attending Savannah Collage of Art and Design, Chapman University, or Colby-Sawyer College as a Graphic Design major.
Photo Caption:
(From left to right: Victoria Erdel, Alexandria Charmoli, and Alexander Guiteras.