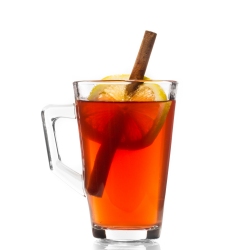 As the holiday season approaches, what better way to celebrate than with a delicious array of seasonal mixed-drinks developed by Master Mixologist, Jordan Bushell? Perfect for sipping near the fire, these favored holiday blends featuring Hennessy V.S have us looking forward to a winter wonderland.
Old World – Transport yourself to the good ol' days with this Hennessy concoction served on the rocks featuring Hennessy V.S, orange bitters and Amaro Nonino, garnished with a lemon wheel.
Ginger Apple – Sweet as can be, this drink is perfect for a relaxing evening with friends mixing Hennessy V.S, Ginger Liqueur, lemon juice, apple cider (apple juice), angostura bitter, soda garnished with apple spear and ginger spear.
A Long Night In Madrid – Transport yourself to Europe with Hennessy V.S, Medieria, maple syrup, egg white, angostura bitters topped with your choice of coco nib shavings or dark chocolate.
Winter Vacation – Stay warm and escape the cold with Hennessy V.S, Velvet Falernum, fresh lemon juice, hibiscus tea all topped with a lemon wheel and cinnamon stick.