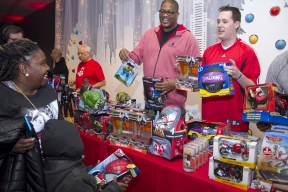 Los Toros de Chicago se unen a la Asociación Nacional de Baloncesto (NBA) y a varios equipos alrededor de la liga, para celebrar la temporada navideña en su juego del jueves, 25 de diciembre, cuando reciban a Los Angeles Lakers.
Como parte del programa Cares Season of Giving de NBA, todos los jugadores y entrenadores que participan en el encuentro del Día de Navidad participarán en un prejuego especial, con la entrega de regalos a jóvenes de la localidad, tras la entonación del Himno Nacional. Los jugadores de los Toros y los Lakers y los entrenadores intercambiarán regalos con cerca de 40 pacientes pediátricos de Advocate Health Care. Cada niño recibirá boletos para el juego de esa tarde.
Durante el encuentro del jueves habrá actuaciones antes del juego a cargo de The Festive Singers, quienes también abrirán el juego con el Himno Nacional. En las carteleras se incorporarán videos navideños, musicales y otros. Animadores de Bulls Entertainment Network incluyendo a Benny y los Elevators, Luvabulls, Incredibulls y BullsKidz actuarán en un show especial de medio tiempo de Los Cascanueces.