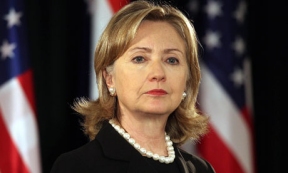 A new national poll of Latino voters released today found that the 2016 Latino vote could face huge swings, depending on whether candidates will renew or let expire President Obama's executive action on deportation relief. Specifically– the poll shows a nearly 50 percent swing in Latino voter support for Hillary Clinton, depending on whether or not she pledges to continue the executive action started under President Obama. Clinton said she supported President Obama's executive action on immigration, but has not said if she believes the next president should renew it, or let it expire. Obama's executive action is temporary and the next President could renew or eliminate it in 2017, unless Congress passes permanent reform. The poll was conducted November 20-22, coinciding with the news of President Obama's policy announcement, and was conducted by Latino Decisions and commissioned by Presente.org in partnership with NALACC and Mi Familia Vota. Poll toplines:
If Clinton expresses support for renewing the executive order, 85 percent of Latino voters polled said they would likely support her for President, while only 11 percent would not.
However, if Clinton indicates she would not renew the order, letting it expire, only 37 percent of Latinos voters say they would support her for President, while 55 percent wouldn't.
If Congress fails to pass legislation, 73 percent of Latino voters support additional use of executive action by the President to provide relief from deportation to additional undocumented immigrants not covered under the November 20th announcement.