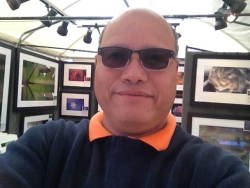 By: Nikoleta Morales
Oscar Matos Linares is a Puerto Rican photographer who captures nature mages not only with his camera but also with his heart. A great inspiration of his own native Puerto Rico. In 2012 he created his own "Delicates" series with images inspired by Puerto Rico from different conservation parks.
"Nature reminds me of home and what I had seen growing up. I appreciate it. I miss it. I don't get to see it in the city as often," said Linares who will take part again for the 6th year at the One of a Kind Show in Chicago. This year he will be showing "much more personal style with lines and extracts." The prices for his photography range from $30 to $100 and sizes from 8×12 to 20×30. Linares studied photography at the University of Sacred Heart in Puerto Rico and in 1992 relocated to Chicago where he received a degree in photography from Columbia College. He is inspired by the works of Nitza Luna, Henri Cartier-Bresson and Pete Turner. "Do something that reminds you of who you are," said Linares to the Lawndale readers.
The One of a Kind Show will return to the Merchandise Mart on Dec. 4 –7 with more than 600 juried artists and a new year of unique and skillfully handcrafted goods, offering shoppers thousands of one-of-a-kind holiday gift options. For more on Linares' photography art visit: www.lpstudios.net.