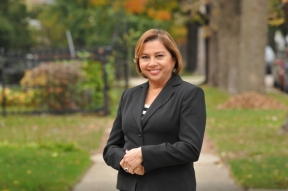 By: Ashmar Mandou
Former news reporter Milly Santiago believes she knows what is best for residents living in the 31st Ward. "With my background in journalism I know how to talk with people, to understand their needs and wants, to tackle injustices, and to truly listen to people," said Santiago, candidate for the 31st ward. "It is no secret that sometimes reporters are smarter than some of the elected officials we have in office. We are the voice of the people. With my background I know I can bring more opportunities to the 31st ward."
Santiago moved to Chicago in 1976 where she started her career working as a bilingual clerk for Chicago Public Schools in the Department of Bilingual Education. Shortly after, Santiago joined the U.S. Army Reserves, which gave her the opportunity to go to college. She completed her training in Fort McClellan, Alabama in 1979. In 1986, Santiago attended college full time at Northeastern Illinois University where she earned a bachelor's degree in Communications. Shortly thereafter, a booming career on air happened. For many years, families welcomed Santiago into their homes via television working with Telemundo then Univision. "My background has prepped me for what it will take to serve as alderman," said Santiago. "I was born to serve. In all my choices, so far I have helped people through CPS, the army, or working as a news reporter. For the past years, my neighbors have asked me when I was going to run for alderman and now I feel I am ready."
Santiago has her work cut out for her. She is running against incumbent Ray Suarez, a man who since 1991 has represented the 31st ward. "He is part of the political machine. The Joe Berrios machine. Enough is enough," said Santiago. "For far too long the residents of the 31st ward have been bullied by an alderman that consistently puts his interest before those of the community." According to Santiago and several proprietors, Suarez has allegedly forced business owners to contribute to his political fund. "We need to step up as a community and now allow for an injustice like this to happen." Santiago has vowed to better the community by proposing several changes.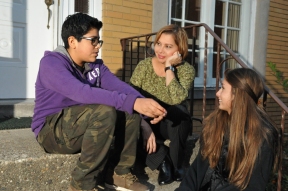 Public Safety
We know gang infestation is a problem. In light of recent events people have lost their faith and trust in police officers. I vow to change that by asking the community to attend CAPS meeting and really work with Chicago police officers so together we can address the issue of gangs. The last thing a working family needs is someone recruiting their child to join a gang. We need to have better communication with police officers so we can better look after our community.
Private Sectors
It is bitter sweet to see so many thriving communities due to private sector business. I would like to see more of that in the 31st ward, for instance we need a chamber of commerce. We hardly have an umbrella network that all businesses can be a part of so we need to change that. We deserve to have a thriving community, too.
Schools
We need more resources for CPS. We also need to bring a trade school and magnet school to the 31st ward. Trade schools back in the day were popular and helped create jobs for families. Whatever I can do to bring more resources and more income to the 31st ward, I will do.
With endorsements from 1st ward Alderman Proco Joe Moreno, 8th District Cook County Commissioner Luis Arroyo Jr., and most recently Congressman Luis Gutierrez, Santiago hopes her message is heard by all from the 31st ward. "I am here to serve my community and I will not become complacent nor will I abuse my position of elected alderman. I will always look after the interest of my community." If elected, Santiago would be the first Latina alderman.