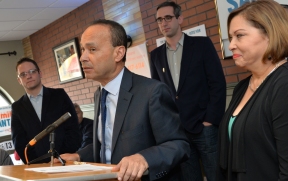 Congressman Luis Gutierrez formally announced his endorsement of Milly Santiago's candidacy for the 31st Ward Aldermanic seat in an event on Chicago's North Side. "I have known Milly for a long time. When Milly was a reporter, she was always seeking out the truth. She was so popular in the community because every night on TV, a community that felt disenfranchised, knew that Milly was going to uncover the truth. Milly is a truth seeker we need that in City Hall. I am endorsing Milly because after 24 years we truly need change in the 31st Ward. I welcome Milly's tenacity to stand up against complacency when others will not," said Congressman Luis Gutierrez.
"I am excited to receive the endorsement of our Congressman Luis Gutierrez. I know that this decision was not an easy one; he has known Suarez for many years. This political shift on Chicago's North Side will unite those who want to move our community forward versus those who want to continue to silence the voice of its residents. This movement is growing. I am not afraid of Suarez and I am not afraid of the Berrios machine that has created voter apathy and low turnout in our ward. It is time for 31st Ward residents to take control of their ward," said Milly Santiago.
1st Ward Alderman Proco Joe Moreno and 8th District Cook County Commissioner Luis Arroyo Jr., who were present at the event, have already announced their endorsement of Milly for Alderman. Newly Elected State Representative Will Guzzardi spoke at the event and is still exploring his stance with Milly's campaign.
Milly Santiago is a popular figure and celebrity in Chicago's Hispanic community. Milly has lived in the 31st Ward for 31 years. She has been able to assemble an army of volunteers that collected over 4,500 petition signatures.