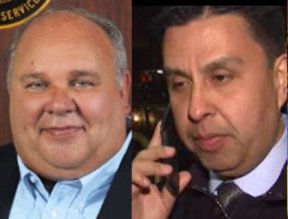 A Cook County Circuit Court Judge on Thursday, Jan. 22nd, 2015 ordered former Cicero mayoral candidate Juan Ochoa to reimburse Cicero and Town President Larry Dominick more than $30,000 spent to refute Ochoa's claims that he was harassed in the 2013 election.
Ochoa filed the politically motivated lawsuit weeks prior to the February 26th, 2013 mayoral contest at a press conference in what observers said was clearly intended as a political move to generate publicity and slander Dominick. Despite the false accusations, Dominick defeated Ochoa in a landslide election receiving more than 60 percent of the votes cast in the three-way contest that also included Joseph Pontarelli, an ally of former Cicero Mayor Betty Loren-Maltese.
Describing Ochoa's accusations as "so devoid of factual allegations," Cook County Circuit Court Presiding Judge Patrick J. Sherlock ordered Ochoa to pay $17,239.68 in legal fees to the Town of Cicero and its officials, and $12,946 in legal fees to attorneys representing the Cicero Voters Alliance (CVA).
Ochoa's lawsuit was filed on Dec. 11, 2012 by political activist and lawyer Frank Avila Jr., the son of controversial Water Reclamation District Trustee Frank Avila, Sr. The Ochoa/Avila lawsuit had been dismissed twice by the courts, first on Dec. 5, 2013 and again on July 21, 2014. The elected officials named in the lawsuit included Dominick and his slate including Supervisor Joe Virruso, Assessor Emilio Cundari, Clerk Maria Punzo-Arias, Collector Fran Reitz, and Trustees Lorraine Walsh and Larry Banks.

(Court Document NO. 12 L 13824; Honorable Patrick J. Sherlock)