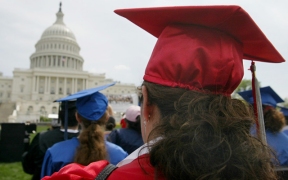 U.S. Senator Dick Durbin (D-IL) and U.S. Representative Luis Gutiérrez (D-IL-04) spoke out against the House Republican effort to defund President Obama's immigration policies, including the Deferred Action for Childhood Arrivals (DACA) program. The House adopted an amendment earlier this week that would freeze funds for DACA, a program that temporarily halts deportations of young Americans known as "Dreamers" – immigrant students who were brought here as children by their parents and who grew up in the United States.
"The bill the House passed this week is the height of unfairness and hypocrisy. First, Congressional Republicans obstructed immigration reform legislation. And now they are obstructing President Obama's efforts to use his legal authority to fix our broken immigration system," Durbin said. "Thousands of DACA recipients are already giving back to our country – working as engineers, small business owners, and public school teachers. But the Republicans in the House of Representatives want to end DACA and have these young people deported from the only country they have ever called home. The government should not use its limited resources to deport immigrants who have lived and worked here for years, who have children who are American citizens or lawful permanent residents, and who don't pose a threat to our safety."
"In Illinois and around the country, Democrats are standing up for families and for letting American citizens grow up without fear that their parents will be deported," Rep. Gutiérrez said. "It is not just a legislative fight against the deportation-only agenda of the right wing; it is a community education effort in cities and towns across the state and across the country. We want people to come forward, submit to a criminal background check, and get permission to work on-the-books so they can raise their families in peace."
Rep. Gutiérrez appeared at an immigration forum Wednesday night in Rhode Island and will speak at an event in New Jersey later today as part of a national tour to raise awareness about the President's executive actions on immigration. For more information about the tour, visit http://gutierrez.house.gov.