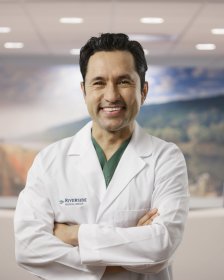 By: Ashmar Mandou
Joan Siefert, 82, enjoys living an active lifestyle. A retired schoolteacher from Kankakee, IL, Siefert plays host to several group gatherings throughout the week while tending to her daily chores. So when Siefert, who suffers from Chronic Obstructive Pulmonary Disease (COPD), fractured her spine in July 2014 after coughing it was a difficult experience to get through. "I had the worst pain," said Siefert. "I am a person who, even at my age, still can move, albeit slow, but I am used to being on my feet and taking care of myself and seeing my friends. So when I got the fracture I thought I could deal with it." Unfortunately, Siefert could not endure the pain any longer. After visiting her doctor and consuming prescription medicine for two months, Siefert was referred to Dr. Juan Jimenez, MD, a neurosurgeon at Riverside Medical Group, by a friend. "My life has changed since meeting him," said Siefert, who also has osteoporosis.
Upon meeting Dr. Jimenez, he concluded Siefert suffered a vertebral compression fracture, a condition that affects more than 750,000 people each year. "Unfortunately, if you're over a certain age, people think living with back pain is normal; part of aging. "There are many things we can do to prevent and treat these fractures with the need of major back surgery," said Dr. Jimenez, who treats hundreds of people for spinal or vertebral compression fractures. The procedure Dr. Jimenez performs on his patients is called vertebral body balloon procedure, also commonly called vertebral augmentation, an outpatient procedure used to fortify and restore the shape and height of a collapsed or fractured vertebra. "We now have the technologies to perform such a procedure where the patient can literally get back on their feet later in the day," said Dr. Jimenez. "It is amazing to see patients, like Joan come in with tremendous pain to then witness her walk right out without issue." The procedure, Dr. Jimenez states, is a medical balloon that is inserted into the fractured area and inflated to restore lost height and to create a space for the injection of special bone cement that hardens and stabilizes the bone. "The patient is, of course under anesthesia and we go right into the affected area with minimal scarring," said Dr. Jimenez.
"Before the procedure, my pain was at an all time high," said Siefert. "It was 10 out of 10. Within a day, my pain level was at 2, it was wonderful. People my age are so afraid of going through any type of procedure because they don't want to be on a hospital bed for six to seven months. So when I heard about this procedure I knew it was right for me," said Siefert, who is now back to doing her usual outings and activities.
According to the National Institutes of Health (NIH), people with osteoporosis can improve their bone health through a combination of a diet rich in calcium and vitamin D, exercise, lifestyle modifications. Osteoporosis affects about 10 million Americans, 80 percent of whom are women. "I advise people, especially women to now only live a healthy lifestyle, but also when it comes to working out, weight lifting benefits and can help offset osteoporosis. Now, I don't mean patients should become body builders, but maintaining some weight resistance sure helps," said Dr. Jimenez. "People with osteoporosis are highly susceptible to vertebral compression fractures, whether they have COPD or not. That is why it's important to check with your doctor to see what's really causing any type of pain and to determine the best treatment."
DePuy Synthes Spine sponsors patient education forums on vertebral compression fractures. The company is the manufacturer and developer of both vertebral body balloons and spinal cements for vertebroplasty or vertebral augmentation. Dr. Jimenez spends most of his hours at Riverside Medical Group; however he has a partnership with Rush Medical Center. To learn more about treatment options for vertebral compression fractures, visit www.allaboutbackandneckpain.com.