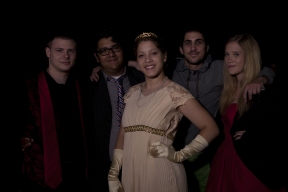 Chicago based Latino Art Beat, a national not-for profit visual arts organization that encourages higher education through the award of college scholarships to select winners of its various arts competition, presents it Youth Filmmakers Showcase, hosted by Instituto Cervantes at 31 W. Ohio Street, Chicago, IL on February 17, 2015 at 6:00pm. The event is free and early arrival is strongly suggested.
The program will include a preview screening of 'The Dance', the second film in a trilogy of short scary/mystery films, written by Manny Reyes III, Directed by Nikola Stojkovic and produced by Latino Art Beat Productions. This film series is about the adventures of two high school teens that always seem to get in trouble – which results in mysterious happenings which include mummies, ghosts and the like. The films actors, directors and or producers will be present for a Q&A session after the screening.
For more information on Latino Art Beats national visual arts competitions visit: www.latinoartbeat.com. Latino Art Beats national program is in part made possible through the support of Southwest Airlines, the "Official Airline of Latino Art Beat".