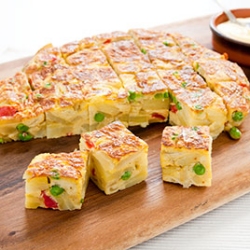 The link between chronic disease and inflammation based on a poor diet and sedentary lifestyle has been made clear by now, as outlined in an article from the Centers for Disease Control and Prevention. We have encountered the wrath of chronic disease – including heart disease, cancer, stroke, rheumatoid arthritis, and many others – research has identified a modern-day equivalent, this time caused by inflammation, fortunately below are some recipes to help restore your health.
Spanish frittata and simple salad with maple orange vinaigrette (serves 4-6). Frittata: 12 large organic eggs; ½ cup coconut milk; ½ tsp. sea salt, or more to taste; 2 tbsp. coconut oil or extra-virgin olive oil; 1 small red onion, small chop; ½ cup sautéed mushrooms or your favorite vegetable; 1 cup spinach or arugula.
Preheat oven to 375 degrees. Whisk the eggs and coconut milk with 2 pinches of salt. Set aside. Prepare pan with coconut oil and medium-high heat and sauté onions until translucent, about 3 min. Add mushroom or favorite vegetable and sauté until soft. Toss in spinach and fold into veggie mixture just until wilted. Remove vegetables from pan; set aside. Turn down the heat to low, adding a little more coconut oil if needed. Using the same skillet, add the eggs, shaking to distribute the mixture evenly. Cook over medium-low heat for 5 min. using a spatula to spread the eggs from the edges to the center until the edges are no longer runny. Arrange the vegetable mixture over the top evenly.
Transfer to a 375-dgree oven and cook for 5 minutes until set and slightly browned. Remove from oven. To finish, slide partially cooked frittata onto a large plate; wearing oven mitts, place a plate over the pan and, holding the two together, invert them so the frittata drops onto the plate. Slide the frittata back into the pan so partially cooked side is up. Place back in oven to cook 3-4 min. more.
Grilled salmon and asparagus with stone fruit and lavender chutney (serves 4-6). Chutney: 2 lb. stone fruit, small dice; 1 large onion, finely chopped; zest of 1 lemon or lime; 2 tbsp. garlic, minced; ¼ tsp. chili flakes (optional); 1/3 cup red wine vinegar; ¾ cup raw honey or agave; ¾ tsp. sea salt; 2 tbsp. fresh lavender (or use basil or mint; use 1 tsp. dried lavender if you cannot find it fresh). In a saucepan combine all prepared ingredients except the herbs. Bring to a boil. Continue cooking at a rolling boil, 15 min. Stir occasionally. Mix in fresh herbs and/or lavender at the end.