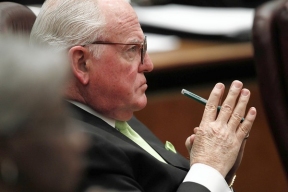 Chairman Ed Burke of Chicago's Finance Committee announced the committee will hold a hearing on the Burge Torture Reparations Ordinance on April 14, 2015 at 10 a.m. Dozens of organizers and activists were present to demonstrate their support for the ordinance.
The ordinance has been stalled in the Finance Committee since it was filed in City Council on October 16, 2013 by Aldermen Joe Moreno (1st Ward) and Howard Brookins (21st Ward). Several organizations, including Amnesty International, BYP100, Chicago Light Brigade, CTJM, Project NIA and We Charge Genocide have held rallies, demonstrations, and marches over the last three months to demand a public hearing on the ordinance and to call on Mayor Rahm Emanuel and Chicago's aldermen and women to fully support the ordinance and commit to its immediate passage in City Council.
The ordinance is supported by Cook County Commissioner and mayoral candidate Jesus (Chuy) Garcia, 29 City aldermen and women, and numerous other political and civil leaders in Chicago. This past November, the United Nations Committee Against Torture also called upon the City of Chicago to enact the ordinance.
The Ordinance serves as a formal apology to the survivors; creates a Commission to administer financial compensation to the survivors; creates a medical, psychological, and vocational center on the south side of Chicago; provides free enrollment in City Colleges to the survivors; requires Chicago Public schools to teach a history lesson about the cases; requires the City to fund public memorials about the cases; and sets aside $20 million to finance all of this redress ¬– approximately the same amount of money the City has spent to defend Burge, other detectives and former Mayor Richard M. Daley in the Chicago Police torture cases.