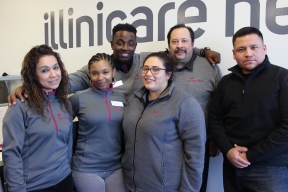 By: Ashmar Mandou
Inside the quaint space of IlliniCare's new center inside a bustling plaza in the heart of the Lawndale neighborhood, awaits a knowledgeable staff eager to greet you.
"We are here to give our customers the upmost care and attention they deserve," said Melinda Rios BS, IlliniCare store manager. "When people walk through our doors we want them to feel safe and walk out knowing they came to the right place."
Last November, Mayor Rahm Emanuel and IlliniCare Health CEO Jeff Joy introduced a pilot neighborhood community center facility that aimed to better serve their health plan members across the Chicagoland area. The announcement was made at IlliniCare's first-ever community center located at 3954 W. Cermak Rd. The pilot program, designed to go beyond open enrollment, intends to have a profound presence in every community across the city by partnering with local organizations to offer an even greater network of support for residents.
"We wanted to see how we could use a space within a community that was initially used for open enrollment," said Lindsey Artola, vice president of External Affairs for IlliniCare Health. "We thought this would be a great way to get people in and spend some time with them. We did not want to have a pop-up store for open enrollment and then leave. We thought what a great way to stay connected to our community. We cannot really be the health plan we want to be if we do not have an understanding of what is going on in our communities."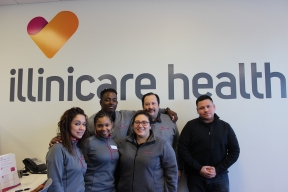 So with that in mind, IlliniCare partnered with the Lawndale Christian Health Center, Swedish Covenant Hospital, and Mount Sinai Hospital to fuse all their resources together to become the central hub for all things health related. "If you have questions concerning food pantries, or questions about the offices of the Illinois Department of Human Services, or questions about social security offices, we are here to direct you to the right place," said Rios. "Our goal here is to become more than just health insurance. We want to be your main source for living a healthy life."
At the new location, IlliniCare provides monthly activities throughout the year that includes health screenings, prenatal care, lifestyle coach, mental wellness, and access to experts in the medical field. "Our community cannot be healthy just by providing health insurance. You have to have access to good food, you have to have access to daycare, you have to have access to transportation, you have to have a safe environment to be in, and how to keep yourself fit," said Artola. "We are hoping this space becomes a place where we can partner with others in the community. We hope this space becomes neutral grounds for a person to come in and learn. They do not have to be IlliniCare members and they do not have to be on Medicaid. They just need to come in and ask about our services." For more information, visit www.IlliniCare.com.
Photo Caption:
IlliniCare Health Store Manager Melinda Rios BS (center) along with the rest of the IlliniCare staff encourages the Lawndale Community to ask about their services.