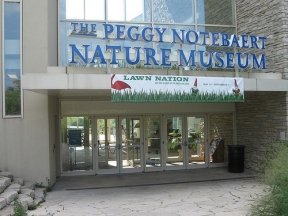 The Peggy Notebaert Nature Museum introduced five new species of live animals for guests to interact with beginning March 5th to highlight the second-half of Rainforest Adventure's extended run.
"It is amazing to see the way people connect to the animals in the exhibit. We're sad t say good bye to Iggy (a Blue-throated Macaw) and friend, but we're extremely excited to welcome five new species of Rainforest animals," said Deborah Lahey, the Nature Museum's president and CEO. The few of the new animals are:
Dumeril's Boa – A non-venomous Boa species that stretches between six and seven feet; features beautiful gray and brown coloring and found on Madagascar and Reunion Island; threatened by deforestation and hunting.
Lilac-Crowned Amazon – This green parrot features an almost sky-blue crown; average life span is about 50 years; although native to the Pacific slopes of Mexico, there are feral populations in several Southern California counties; over the last decade, due to habitat destruction, the wild population has declined by an estimated 30 to 49 percent.
Green Tree Monitor – This bright-green tree dwelling monitor lizard is long and lean; its tail is longer than its legs; long claws assist with climbing as do enlarged scales on the soles of the feet.
Rainforest Adventure will run through May and is included with the price of regular museum admission. Located at 2430 North Cannon Drive in Chicago's Lincoln Park, the Nature Museum is open weekdays from 9 a.m. to 5 p.m. and weekends from 10 a.m. to 5 p.m. For more information, visit naturemuseum.org or call 773-755-5100.