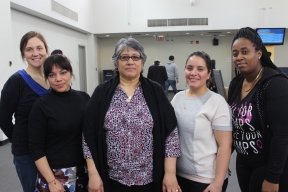 By: Ashmar Mandou
Close to a hundred parents convened inside the student union at Northeastern Illinois University on Tuesday afternoon in preparation for the upcoming 20th anniversary of the Parent Mentor Program that was created through the Logan Square Neighborhood Association (LSNA) and the Southwest Organizing Project (SWOP). On Monday, March 16th, over 600 Parent Mentors from across Illinois communities will help kick-off the celebration at Northeastern Illinois University with the help of Illinois legislators State Representative Lisa Hernandez, Representative Dan Burke, Senator William Delgado, Representative Jaime Andrade, Representative Will Guzzardi, and Representative Luis Arroyo.
Since 1995, the Parent Mentor Program has transformed the lives of hundreds families, now collaborating with 70 schools with 16 community-based organizations across the state. Working daily with over 600 teachers, fellow parents, and over 14,000 students being a parent mentor is one that takes dedication and long hours, however many parents believe it is a program that literally is responsible for changing lives and keeping their kids safe in schools. Unfortunately, programs like Parent Mentors, an award-winning program, is one of the many that faces severe funding cuts under Governor Rauner's FY16 budget cuts.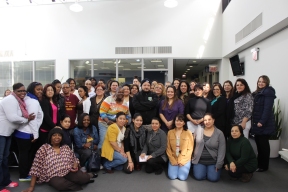 "The Parent Mentor Program is one that completely changed my life," said Monica Espinosa. "I had attachment issues with my son, so I faced depression when he went off to school. I remember a lady who approached me several times at my son's school about the program and asked if I wanted to join. After giving the program some I thought I decided to join and it changed my life." Six years into the program, Logan Square resident Espinosa, with no educational background, became a mentor coordinator who now works closely with teachers across Chicago and has garnered profound knowledge into the Chicago Public School system. "This is a program that gives parents the tools to learn more about their child's education, to ask questions, to be their child's ambassador, to know where to look for more resources. The Parent Mentor Program is a program that needs to be around and needs more funding," said Espinosa.
For Englewood resident Ebony Henderson, the Parent Mentor Program helped change the life of her son who was diagnosed with ADHD. "For a long time, I didn't know how to help my son in school. No one could help him," said Henderson. "I remember one day, my son, my young son came to me and said, 'mommy, I really want you to be a part of this program.' I knew nothing about Parent Mentors, but I did it for my son. Now, with the help of the program I was able to receive my GED and my son is able to gain a better education in school." For Espinosa and Henderson, the cuts to funding is a grave one as many parents across the state rely on the success of the Parent Mentors Program and the network of support they receive from it. Next Monday, legislators will call upon the Governor to reconsider the budget cuts and will soon plan a trip to Springfield.