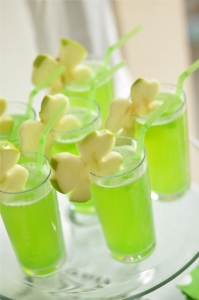 Even on a Tuesday – this year's March 17 – St. Patrick's Day can tempt infrequent drinkers to get out and enjoy the festivities. But you don't have to drink dyed-green beer to tap into the spirit of the holiday, says Steven Earles, CEO of Portland-based Eastside Distilling (www.EastsideDistilling.com). Whether St. Patty's Day merrymakers prefer to be a part of their town's celebrations, or they prefer keeping it intimate with close friends and family, Earles offers new drink ideas for drink connoisseurs in search of a new tradition.
•Dropkick Murphy Coffee: Inspired from the popular Celtic punk band, this feisty coffee has the buzz and kick many enjoy in kicking off an extended night of celebration.
1 ½ oz. Burnside Bourbon
½ oz. Below Deck Coffee Rum
2 tsp. vanilla simple syrup
Coffee
Whip Cream
Ground cinnamon
In a coffee glass add Burnside Bourbon, Coffee Rum, and vanilla simple syrup. Fill glass with coffee leaving about 1/4 room. Top with whip cream and then a few dashes of ground cinnamon. You can garnish with lucky clovers!
•Adult Shamrock Shake: Many of us have fond memories as a child enjoying the McDonald's Shamrock shake on St. Patty's Day. Consider an adult version.
1.5 oz. Portland Potato Vodka
1 oz. Peppermint Bark Liqueur
.5 oz. Irish Cream
½ scoop vanilla ice cream
1 scoop mint chocolate chip ice cream
Add all ingredients in a blender a cup of ice. Blend for 10 seconds and serve immediately.
•Irish Mule: There's a Moscow mule, made with vodka, and a Mexican mule, made with Tequila – now, here's an Irish take …
1 ¼ oz. Burnside Bouron
2 tsp. mint simple syrup
Ginger beer
Lime juice
Mint leaves
In a tumbler over ice add Burnside Bourbon, mint simple syrup, a splash of lime juice, then fill with ginger beer. Stir together and garnish with mint leaves.