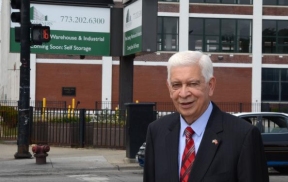 Alderman Ray Suarez (31st) and Mayor Rahm Emanuel announced a two-phase plan that will bring 1,600 new jobs to the northwest side ward. Phase One will be the redevelopment of the 1.5 million square foot, former Marshall Field's site at 4000 W. Diversey Ave. The more than 1,000 new jobs at The Fields will be for businesses that include a 70,000 square foot grocery store, high tech office space, industrial and warehouse space, self-storage, a data center and 84 business Work/ Live units, allowing residents to work from home.
"The Marshall Field's warehouse site was a great economic engine of Chicago's past but working together with the community, we are reinventing it to be an even better economic anchor of Avondale's future," said Mayor Emanuel. "From the new grocery store, to the new businesses that are moving in, this transformation is bringing the jobs and economic opportunities that every neighborhood deserves. It speaks to the spirit of economic revival happening in neighborhoods all throughout the City of Chicago."
In Phase Two, Alderman Suarez will seek two, large retail stores and several smaller ones to locate south of Diversey for an additional 600 new jobs. "I would like to thank Mayor Emanuel, the city's Department of Planning and Development and our community for helping to make this project a reality," said Suarez. "Economic development has always been important for the working families and individuals in our community. We are not only creating new jobs and opportunities for them; we are developing a destination place for our ward and the city."
Built as a production and distribution plant by the Olson Rug company in the 1920s, The Fields was acquired by Marshall Field & Co. in 1965 and subsequently used as a warehouse. Macy's Inc. acquired the property in its takeover of Field's in 2005 and the complex has sat vacant since it was closed in 2008.