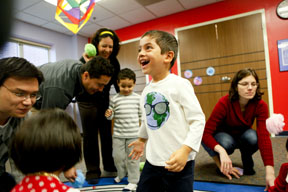 Looking for an early childhood music education program for your child? At one of Chicago's top community music schools? Want to try it out first? For free? Then mark your calendar for Merit Storytime, Monday, March 9 from 11 to 11:45 a.m. at Merit School of Music, 38 S. Peoria St. in the heart of Chicago's West Loop neighborhood.
No pre-registration is required. Chicago-area families are simply encouraged to gather at Merit's state-of-the-art Joy Faith Knapp Music Center, where Merit's highly qualified and engaging teaching artists will meet your little ones and share the fun and adventure of books and music.
This free family drop-in event is just one week before the March 14 registration deadline for Merit School of Music's Early Childhood spring session, March 23 through June 8. So consider it a fun and convenient opportunity for you and your child to "test drive" a music learning experience at Merit, before signing up for a class. For more information about Merit Early Childhood classes, visit meritmusic.org, call (312) 786-9428, or email studentservices@meritmusic.org. Limited financial aid is available.